LeipJAZZig-Orkester, conductor Stephan König
14 jazz soloists from Leipzig – founded 1998 – concert jazz compositions by Stephan König.


25 Jahre LeipJAZZig-Orkester - 1998-2023
20.04., 20 Uhr, Leipzig, UT Connewitz www.leipjazzig.de
04.06., 18 Uhr, Kirche Panitzsch
25.06., 16 Uhr, Theater am Rand Zollbrücke




Stephan König (ld, p, key, komp, arr)

Thomas Prokein (vl)
Christoph Schenker (vc)

Frank Nowicky (fl, alt-sax, ten-sax, cl)
Michael Arnold (ten-sax, alt-sax, sopr-sax, cl, bcl)
Henning Plankl (alt-sax, bar-sax, cl, bcl)
Johannes Moritz (sopr-sax, alt-sax, cl)

Frank Bartsch (trp)
Gundolf Nandico (hrn)
Natascha Zickerick (tba)

Frank Kaiser (git)
Wolfram Dix (vib, perc)
Stephan "Grete" Weiser (bg)
Wieland Götze (dr)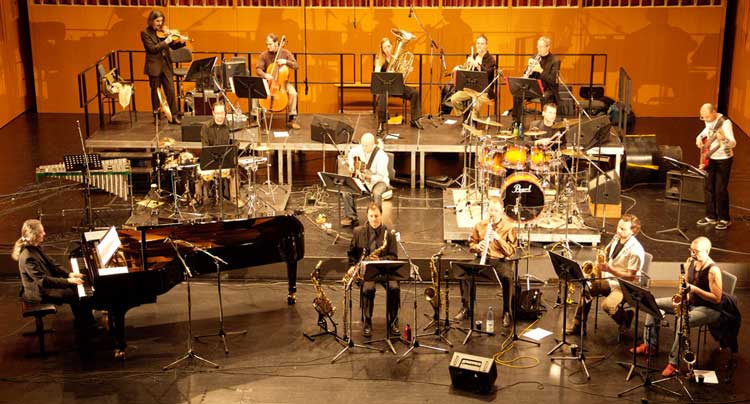 Foto: S. Hauptmann (Großer Saal der HMT Leipzig, 2007)

"Zyklus für Jazz-Orchester" (Komp. / Arrg.: Stephan König)
"Hommage á Duke Ellington" (Arrg.: Stephan König)
Tango-Programm mit Tobias Morgenstern (akk) a.G. (Arrg.: Stephan König)
"Hommage á Johann Sebastian Bach" (Arrg.: Stephan König)
"The Music of 007 - James Bond" (Arrg.: Stephan König)
"LeipJAZZig-Orkester & Richard Galliano, akk (F)" (Komp. / Arrg.: Stephan König)
"Konzert für Klavier und Jazz-Orchester" (Komp./Arrg.: Stephan König)
"MICHAEL JAZZSON" (Komp.: Michael Jackson, Arrg.: Stephan König)
"Die Meisterspieler - Opern ohne Worte" (Komp.: Richard Wagner, Arrg.: Stephan König)
"elm & oak" - Liederzyklus nach Texten von Dylan Thomas für Chor u. Jazz-Orchester (Komp.: Stephan König)
"Fascinating Rhythm - LeipJAZZig-Orkester plays George Gershwin" (Arrg.: Stephan König)
"LUCID DREAMS - Konzert für Klavier, Jazz-Orchester und Kammerorchester" (Komp.: Stephan König)
"Die Planeten" Gustav Holst - 1914, Jazz-Bearbeitung: Stephan König - 2014
"Mozart in Jazz" (Komp.: W. A. Mozart, Arrg.: Stephan König)
"SOLARIS - a jazz-symphonic poem" für Klavier, Jazz-Orchester und Kammerorchester" (Komp.: Stephan König)
LeipJAZZig-Orkester plays the music of the "Yellowjackets" (Arrg.: Stephan König)
LeipJAZZig-Orkester spielt Hanns Eisler (Arrg./Komp.: Stephan König)
"Sieben Arten den Regen zu beschreiben" (Komp.: Stephan König)
"LUNARIS - sieben Klangbilder zum Mond" für Klavier, Jazz-Orchester und Kammerorchester" (Komp.: Stephan König)
"Monteverdi und Bach in Jazz - LeipJAZZig-Orkester & Sjaella" (Arrg./Komp.: Stephan König)
"INNER ORBIT" für Klavier, Jazz-Orchester und Kammerorchester" (Komp.: Stephan König)
"LeipJAZZig-Orkester plays Snarky Puppy" (Arrg./Komp.: Stephan König)




LeipJAZZig-Orkester @ Elbphilharmonie Hamburg (Fotos: Christian Enger, engerfoto.de)

23. Leipziger Jazztage 1999
Chemnitzer Festival "Begegnungen" 2000
Bachfest Leipzig 2001
Jazz-Festival Münster 2006
30. Leipziger Jazztage 2006
Leipziger Bachfest 2007
Jazzfestival Nanjing / China 2007
Wagner-Festtage Leipzig 2010
15. Görlitzer Jazztage 2010
19. Stelzenfestspiele bei Reuth 2011
21. Stelzenfestspiele bei Reuth 2013
Mozartfest Chemnitz 2014
Bachfest Leipzig 2014
LeipJAZZig-Festivals 1998 - 2018
Magdeburger Jazztage 2017
Elbphilharmonie Hamburg 2017
26. Stelzenfestspiele bei Reuth 2018
Jazztage Dresden 2018 + 2019


---
The CDs "LeipJAZZig-Orkester - Vol.1 und Vol.2" have been published on the "querstand" label
- www.vkjk.de
Rezension "Leipziger Volkszeitung", 20.01.2006
CD Vol. 1:
Ausschnitte, 1min
Nr. 4 "Twelve Points" / Nr. 8 "Russisch Brot" / Nr. 9 "Nordlicht" / Nr. 10

CD Vol. 2:
Ausschnitte, 1min
Ballade für Jazzorchester / Konzert für Klavier und Jazzorchester / Toccata con Fuga in Jazz

---

Praise for the LeipJAZZig Orkester

Leipziger Volkszeitung: ... the "LeipJAZZig Orkester", conducted by Stephan König, excited the audience in the "Kosmospolitan" which was filled to the last bar-stool... ... The verve and vitality make one think of the early "Vienna Art Orchestra", but König is in a league of his own...

JAZZPODIUM: ... beautiful, light melodies, original combinations of sounds, well-guided soloists ...

NEUE MUSIKZEITUNG: ... the scene in the region, which offered unconventional rock-jazz with the LeipJAZZig Orkester under the direction of Stephan König, can hold its own against international competition ...

Volksstimme Magdeburg: ... all of a sudden, the room was filled with a completely unexpected sound that crept into every corner - enthralling, moving, and casting its spell over everything. Everything became an infinite musical journey. Although these works are still to be described as jazz, they somehow sound like something completely different, bursting with ingenuity. ...
... The LeipJAZZig Orkester - highly recommended! ...

Leipziger Volkszeitung: ... 8.000 music-lovers were listening. Stephan König's LeipJAZZig Orkester got the market square buzzing ...

Frankfurter Allgemeine Zeitung: ... The surprise of the evening was the LeipJAZZig Orkester led by composer/arranger and pianist Stephan König. The group was really tight, and the violin, cello and French horn created an unusual sound world. The multi-talented bandleader spurred the group on to broad Mediterranean beats, wildly jagged orgies of noise and even a disco tune sung by alcoholic Cossacks, only to be reined in by a couple of Klezmer musicians. The fifteen member collective played on its own and also brilliantly accompanied the legendary French accordion star Richard Galliano. ...

Leipziger Volkszeitung: Inner dialogue of distant worlds - diversity is the word at the second evening of the Leipzig Jazz Festival
... featuring the sensational hometown appearance of Stephan König's LeipJAZZig Orkester with the French accordionist Richard Galliano. He is one of main people responsible for bringing the piano world to its knees with his fresh and lively melancholic melodies. But tonight we not only heard the usual star-stands-in-front-of-orchestra routine, but an intelligently arranged, tight and entertaining program with razor sharp tempos. Big bands are the most spectacular enterprises in jazz, they have tendencies to be megalomaniacs and are notorious for lack of discipline and sophistication. But in this case, the 14 musicians on stage were individualists on a tight leash held by their leader Stephan König. ... This performance shows us that Leipzig has a fresh new export to offer ...

JazzPodium: CD LeipJAZZIG Orkester "Volume 2", VKJK 0706
For decades, Leipzig has been an important centre, also for experimental jazz ... the best example of which is the LeipJAZZig Orkester under the direction of Stephan König, which is celebrating its tenth anniversary. This big band-like formation plays a concentrated melange of highly diverse styles with astonishing sensitivity. Their style of jazz serves as a kind of interface, a fine-tuned junction of contemporary composition and improvisation rituals and lively traditions. ... What strikes the listener above all is the vitality of the playing. In his "Ballade for Jazz Orchestra" and the "Concerto for Piano and Jazz Orchestra", König combines all the areas of influence he encounters in his work as pianist, composer and arranger. Whether it be Kurt Weill, Bach, Rock, Pop, Funk or free improvisation - Stephan König is comfortable in every genre. ... and the band, composed exclusively of soloists, play as if in ecstasy, which quickly infects the listener.

Leipziger Volkszeitung: Individualists in Unison - Stephan König's LeipJAZZig Orkester celebrates its tenth birthday and opens the 13th LeipJAZZig Festival with a brilliant concert
Thursday evening in UT Connewitz. Festival organizer Thomas Moritz hands out sparkling wine to the esteemed soloists of the LeipJAZZig Orkester to celebrate its tenth anniversary. Stephan König, the Orkester's leader, declares his love for his 13 musicians: "We have a very good relationship." 13 is a lucky number, which he meant in regard to the 13th LeipJAZZig Festival, but also applies to his own ensemble. You don't see and hear a pile of individualists looking and sounding this good so often. So much passion, warm feelings and humour is infectious, the concert quickly becomes a big party. The maestro impresses with his casualness and serves up a smorgasbord of music. The arrangement of a Chinese folk tune, which was first performed last autumn in China, is just as exciting as the splendid jazz version of Mozart's Jupiter Symphony. Some pieces begin quietly or even melancholic, then evolve into a fulminantly bombastic hurricane of sound. Whether it be funk, klezmer or Oriental sounds, many styles enter the play. The group proves its humour during the various musical duels strewn throughout the evening. Christoph Schenker on cello plays musical poker with bassist Hendrik Bertram. The instrumental flirt of the barefooted Michael Breitenbach on bass clarinet and guitarist Frank Kaiser was a highlight in itself. And when Gundolf Nandico answers the maestro's piano with French horn sounds which remind one of various stages of digestion, the ensemble and audience have a good laugh together."To the next ten years!" Stephan König toasts his fellow musicians. After such a successful opening concert of the 13th LeipJAZZig Festivals, one can only wish them the same.


---

Short Bio - Stephan König

Stephan König, conductor, composer, arranger and pianist of the LeipJAZZig Orkester, is one of Germany's most celebrated pianists, equally at home in the classical and jazz traditions. His latest CD, "K3" features his latest compositions: 3 piano concertos for symphony orchestra, chamber orchestra and jazz orchestra. He has collaborated with Rebekka Bakken, Uschi Bruening, Richard Galliano, Nigel Kennedy, Lyambiko, Martin Petzold and many others. For the past 20 years, König has taught jazz composition, arranging, piano and jazz piano at the Felix Mendelssohn Bartholdy College of Music in Leipzig and is an active part of Leipzig's lively jazz scene.


---
LeipJAZZig-Orkester @ Youtube www.youtube.com/user/YTJazzOrchestra/
LeipJAZZig-Orkester @ facebook www.facebook.com/leipjazzigorkester/
---

Kontakt
Stephan König, Kurt-Eisner-Str. 92, D-04275 Leipzig, Germany www.st-koenig.de
Tel/Fax +49(0)341 - 590 60 40, mail(at)leipjazzig-orkester.de


---